Tucked away in a quiet unassuming neighborhood in Nairobi, Kenya is a remarkable, open green space for refugee girls escaping some of the most troubled regions of Africa. Like a tree-lined cul-de-sac in an American suburb, the lush landscape stands in sharp contrast to the chaos of conflict zones.
"We deliberately chose a safer and peaceful place for our campus," says Emily Snider, Director of Marketing for RefuSHE. "There are fewer triggers here."
Triggers abound throughout East Africa, home to a smoldering refugee crisis where more than 1.3 million people live in blistering, under-resourced camps in Uganda, Rwanda, Kenya, and Ethiopia. Thousands have spent an entire lifetime in exile, searching for the kind of stillness found at RefuSHE's sanctuary.
Every displaced person is vulnerable by definition, but RefuSHE was founded specifically to serve the most vulnerable of all: unaccompanied girls and young women.
Some are orphans, while others become separated from family during the flight to safety. Along the way, many young women get sucked up in militia and sexual violence, leading to layered and complex trauma.
"The majority of our girls are between 13 and 23 years of age," Emily says. "Between 60% and 80% have faced sexual violence, and 1 in 4 is a mother."
In the midst of so much ugliness, the suburban oasis of RefuSHE offers a healing space where young women recapture their lives and learn to lead. RefuSHE meets every girl where she is, first providing a personal mix of therapy and services to restore physical and mental health.
The girls then move on to rigorous training in vibrant, locally inspired textile creation and business leadership. Their handmade creations are sold in an online shop that boasts fierce patterns and looks, ranging from scarves to masks to haute couture.
What might be most remarkable about these products, though, are their backstories – the experiences of women brought together through transience and art.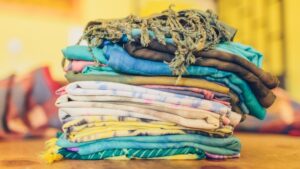 From Victims to Self-Advocates
While ad hoc services have long been available to address individual problems refugee women face – teen pregnancy, sexual abuse, and locating lost family members, for instance – RefuSHE was founded in 2008 as the first human-centered, holistic program to provide everything a young girl would need.
Twelve years later, it's still the only organization in Kenya focused exclusively on refugee girls.
Girls at RefuSHE receive intensive case management matched to their individual needs, including childcare, counseling, and medical or legal support. With a daily schedule of homework, chores, and games, they can ease into a structured routine that creates a sense of normalcy and community.
From translating specialized medical terms to navigating the bureaucratic maze of national and international refugee organizations, case managers are always on hand to help stabilize the lives of new arrivals – but always with the goal of independence.
"Helping [the girls] understand their human rights and become self-advocates is central to our work," says Emily.
As the girls become more independent, they leave the campus to find a more permanent place in the community. But even then, RefuSHE continues to offer rent assistance and support for host families, along with home visits by case managers.
Ongoing education follows the full national curriculum, Emily says. "The girls are assessed and then placed in our education program, which covers material similar to grades 1-5 in the U.S., with a final exam at the end to obtain the Kenya Certificate of Primary Education."
Vocational training is also an option – and that's where the social enterprise comes in.
The Autonomy of Creativity
"We have a two-year nationally certified tailoring program and a two-year artisan collective program," Emily says. But it's not just about skills training and income generation. The programs have become genuine healing spaces for the girls.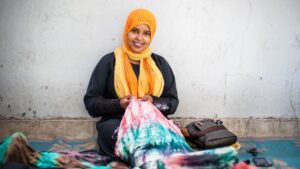 "When a few girls started tie dyeing fabric, we didn't fully realize the impact of art therapy," Emily says. "Creating something from start to finish and having autonomy were powerful first experiences for them."
The repetitive motion of altering fabric and running sewing machines also proved to be deeply therapeutic. As the girls work, they socialize and share stories, helping to reclaim personal narratives that have been battered by recent events.
"We believe in sharing dignified stories, not ones of hopelessness and despair," Emily says.
The media may capitalize on the worst images and numbers, but RefuSHE chooses to focus on the narrative of the girls' resettlement and long-term growth opportunities in countries of asylum.
A 100% Kenyan teaching and service staff helps girls navigate their new home, and the organization works hard to maintain a family atmosphere that helps young women adjust comfortably.
It is this incredible regional talent that RefuSHE taps to teach girls the leadership and business skills to eventually run their own textile enterprises.
"They learn hands-on how to run a fashion business," says Emily. "Each program ends with lessons on marketing and sales, and our girls go out into the community and connect with customers."
A "Runway" to Independence
It's a model that has proven remarkably effective. About 70% of participants have achieved economic independence through the artisan collective – an especially notable achievement given the barriers of refugee status.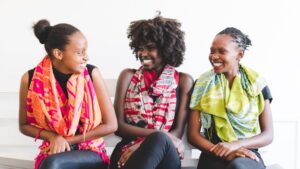 "Refugees are limited in the jobs they can have in Kenya," says Emily. "But there is a massive informal economy in Kenya where there are opportunities to earn income and be successful."
So, what is the ultimate goal? To build confidence and leadership abilities in the girls whatever they choose to do. "We aren't aiming to be a huge production facility," says Emily. "We want our girls to feel strong and independent."
In pursuit of this goal, RefuSHE started its annual Fashion Challenge, a Project Runway -style competition where established designers create one-of-a-kind outfits using handmade fabrics from the artisan collective. Each designer is paired with a specific young woman from RefuSHE who serves as a kind of creative muse.
The lively, youthful event connects RefuSHE's supporters with the work, and this year's event raised nearly $125,000. More importantly, the Fashion Challenge connects the girls with their inner ferocity of spirit – a kind of full-circle moment for every young woman who struggled to recreate her identity on a stripped canvas.
Fashion, style, creativity, art: Those aren't the normal ingredients of the refugee experience, but they are an essential part of being fully human. "Art is a universal mode of expression," says Emily. "It occupies a space different than what our girls are used to."
At RefuSHE, that's a space of resilience and peace, inhabited by 3,300 transformed lives and counting.