In 2007, when Jake Kloberdanz found out that a loved one had been diagnosed with cancer, he turned to his work friends for support. All recent college grads cutting their teeth in the wine industry, they revisited an audacious idea they'd discussed earlier:
Could they sell wine and donate money to worthy causes like cancer research?
"Breast cancer awareness typically lasts for a month," says Kristen Shroyer, one of Jake's friends. "There was no wine giving back, so we wondered how we could use what we knew to keep a cause going all year long."
"We really had no idea what we were doing," Brandon Hall admits, but he and the rest of the group — Jake, Tiffany, Tom, Sarah, and Kristen — weren't about to let that stop them from launching ONEHOPE Wine, the first built-from-the-ground-up, purpose-driven wine brand.
"I was selling wine out of my car!" laughs Kristen, who's now EVP for Partnerships. In an industry dominated by big players, the team's naivete may have been an asset, and their common mission is certainly one of the reasons that the entire team is still together.
Matching Cork to Cause
From humble beginnings, ONEHOPE has emerged as an award-winning winemaker that pioneered ecommerce and a direct-to-consumer sales model in an old-fashioned marketplace. Customers can purchase directly on the company's website or from a Cause Entrepreneur, a sort of neighborhood wine guide who facilitates tastings in support of local causes.
Cause has always been at the heart of ONEHOPE. In the beginning, there were just three varietals: chardonnay for breast cancer; a "more masculine" cabernet for autism, because four out of five cases occur in males; and a sauvignon blanc for the planet, because of its grassy and herbaceous notes.
The team carefully vetted nonprofit partnerships internally to ensure proceeds were flowing to high impact work, such as clinical research and trials. "In those days we worked with a few large, visible nonprofits and really wanted to drop off that big check," Kristen says.
"It wasn't complicated, but it was innovative at the time," adds Brandon, who's now Chief Brand Officer. "Storytelling around social good is a well-known strategy now, but it wasn't always" — especially not in wine.
Though today's causes are more diverse, that direct link between mission and bottle is still an integral part of the brand, and the impact is specific and traceable.
For instance, the Napa Valley Petite Sirah provided 237 screenings for prostate cancer; the Vintner Collection California Merlot funded heart disease education for 82,475 people; and the California Brut Sparkling Wine Rainbow Edition underwrote 2,768 hours of operational costs at a crisis helpline for LGBTQ youth.
Online shoppers can filter by their favorite cause, click on a bottle, and dive deeper into the impact of their purchase, whether it's sending 2.4 million meals to children in need, empowering 9,000 veterans for natural disaster relief, or helping more than 64,000 animals find a forever home.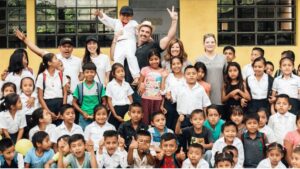 That innovation of linking wine to a social cause is what landed ONEHOPE their first big break at a tradeshow. "We told this guy our story and he gave us his card," remembers Kristen. Thumbing through the stack that night, they realized they were talking to Michael Mondavi, one of the best-known winemakers in the world.
ONEHOPE struck a deal to bottle Mondavi wine, catapulting the young brand into the premium wine market.
"Our story will get people to try our wine, but the quality is what brings them back," says Brandon. We have great juice."
Powered by Women and Heart
Juice plus purpose proved to be the perfect blend for ONEHOPE's loyal and altruistic community. "People started asking us if they could host give-back events with our wines," says Kristen. And that's how the Cause Entrepreneurs program was born.
ONEHOPE has a growing community of over 4,000 Cause Entrepreneurs who host tastings within their networks to highlight and sell over 20 different wines. Each bottle has a donation built in, but sellers can elect to donate up to an additional 10% to organizations and causes close to their hearts.
The direct sales program expanded ONEHOPE's reach in unimaginable ways. "Our Cause Entrepreneurs are 95% women, and they are passionate changemakers connecting with local organizations at a scale we couldn't," says Kristen.
This side-hustle feature of ONEHOPE's program has given community members hope in ways the team never anticipated.
"I'll never forget a veterinarian who signed up," Kristen says. "She had her own practice, but was deeply unhappy with her career and life," — something that's far too common in a profession with the highest suicide rate in the nation.
"She learned about wine, a different industry, and developed a passion and business that uplifted her."
As an end product, wine can be intimidating, but as Cause Entrepreneurs scale the learning curve, it heightens their confidence and sense of possibility in other areas of life.
"It has empowered so many women out of bad relationships and living situations."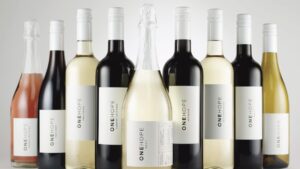 "Wine is tied to experience," explains Brandon. "Experience builds loyalty, and it's hard to pull off outside of the tasting room."
Being part of a community that's working for positive change is one form of shared experience, but the ONEHOPE team is unveiling another kind of experience later this year.
"We're opening a winery!" Kristen shares.
Nestled in the heart of Napa Valley, the new winery represents a kind of full-circle moment for a team of friends who took on an industry with little more than a hunch — and lots of heart.