Sam Harper was thrust into the life of a social entrepreneur early.
"I was 18, and my buddy asked me to join a class project," he recalls.
A student at St. John's University in Minnesota, Sam said yes to an audacious plan – selling warm knit beanies with a give-back model that would provide a free beanie for every child suffering from cancer in the United States.
It was a new business model at the time that took off after a few short years, inspiring Sam to search for his own socially conscious business concept as college came to a close.
The next opportunity popped up quickly. "One of my friends had this idea for a sock company," Sam says. "He discovered that socks were the most requested, but least donated item at homeless shelters across America."
The friend was Michael Mader, another Minneapolis-based social entrepreneur searching for a way to help the local homeless community. So in 2016, Sam and Michael joined forces to launch Hippy Feet, a one-for-one social enterprise that sold warm, fuzzy socks to consumers and donated free pairs to homeless folks in need.
Since its founding, the company has added finely knit sweaters, shirts, and accessories to its colorful online shop. And while the product line has expanded, the mission has narrowed to focus on homeless youth, offering hope and resources at a time that can change the entire trajectory of a life.
Shifting the Focus
Both the product and the mission were a hit from the start. "People really embraced our mission," says Sam. "Within a year of starting we had donated 20,000 pairs of socks."
Their method was simple. They hit the streets of St. Paul with their sock haul, popping into homeless shelters and developing relationships as they handed out pairs.
But they quickly noticed a troubling trend: The same faces were simply moving from one shelter to another, week after week.
"It came up one night on the car ride home," says Sam. Though the team was delivering on their promise to customers and community, people remained in the grip of transience. "We didn't feel like we were having deep impact, and we had to do something."
Many of the individuals caught in this revolving door were kids.
"On any given night in Minnesota, there are 12,000 people under the age of 25 experiencing homelessness," says Sam. And in a city that averages at least an inch of snow cover 100 days out of the year, "This isn't a hospitable place to be homeless."
Both changemakers were ready to go deeper in order to live up to their mission of creating lasting, transformative change in their homeless community. Seeking to address the root causes of homelessness, especially among youth, they did something surprising: "We dropped the buy one, give one model."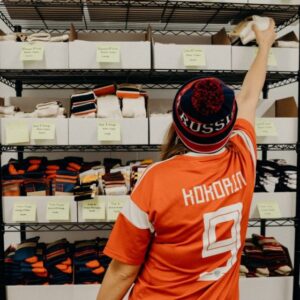 While There's Still Time
"Young people aren't yet fully engulfed in the cycles of poverty and homelessness," says Sam. "There is still time to intervene."
Hippy Feet's solution? The Pop-Up Employment program, a job training effort for homeless youth ages 16-24. "We create a job wherever we can," says Sam, whether that means packaging, embroidering, screen printing, or order fulfillment.
By the time they reach customers, all Hippy Feet products have gone through the hands of a young person experiencing homelessness.
Unlike other transitional employment programs, Hippy Feet brings jobs directly to homeless youth, bypassing transportation difficulties and other barriers young people face when seeking employment.
All the needed materials are set up at nonprofits and shelters in the Twin Cities area, so work is done in a safe environment under the care and supervision of administrative staff.
In addition to receiving cash wages on the spot – "For food and things like bus passes," according to Sam – young people develop vital job skills and a sense of camaraderie.
To date, Hippy Feet has provided over 2,200 hours of employment and training and worked with more than 130 young people affected by homelessness.
Partnering for Impact
Partnerships forged through these pop-up engagements have helped Hippy Feet reach more young people and service their mission at a higher level.
"By removing obstacles, we were able to really connect with them and develop fantastic relationships with the administrative staff at each organization," Sam says. "The organizations open up doors and provide services young people need that we can't."
Organizations such as YouthLink and Life House help young people sharpen job skills, find housing, and position themselves for future opportunities – young people like Denver, who was sleeping on concrete before the team found her at a shelter in 2018.
"She started off packaging socks," Sam recalls. Eager for change, Denver quickly took on diverse roles at Hippy Feet. Her expanding skill set and determination landed her a sought-after internship with a partner organization.
"We met Denver in her moment of adversity, and now she's working full-time and pursuing her electrical degree," Sam says.
Like the young people it takes under its wings, Hippy Feet has grown and matured in sometimes unpredictable ways.
"We started off with socks manufactured by an old family mill in North Carolina," Sam says. Now the company sources sweaters and apparel from companies in New York and San Francisco that share an ethos of sustainability while offering a living wage in their home communities.
While expansion was a choice, Hippy Feet had to make even more changes in the face of a pandemic.
"We brought a smaller cohort into our offices rather than visiting shelters," says Sam. "A few hours of engagement with a young person turned into a regular job."
Working with fewer young people over a longer period of time presented additional opportunities for mentorship. Students received some extra help "adulting" – getting ID cards and building networks, for instance.
At the same time, the Hippy Feet team developed better advocacy skills and learned how to better connect youth to community services in real time. Sam understands that a single organization can't pave the path out of generational poverty. "It takes a community of systems – schools, nonprofits, and other companies to affect change," he says.
"This model works."